Smart Thermostats Installation in Moore, Norman & Oklahoma City
At AVS Concepts, we understand the need to consume less energy in efforts to save the planet and lower your utility bills. Our Alarm.com, Savant and URC home automation systems allow you to control your temperature settings with automated schedules and remote access because of smart thermostat installations.
Our smart thermostats have a smart scheduling option to make your home more energy-efficient on a daily basis. They also can tweak your indoor temperature from a distance when your schedule changes or the need arises. In addition to smart thermostats, AVS technicians also install and service smart locks, smart lighting, smart doorbells, smart garage door openers and more. Our myriad of voice control options will improve the quality of life for homeowners in Moore, Oklahoma City, Edmond, Norman, Midwest City, and elsewhere within our Oklahoma service area.
Among the many benefits of installing a smart thermostat by AVS Concepts at your Oklahoma home, these stand out: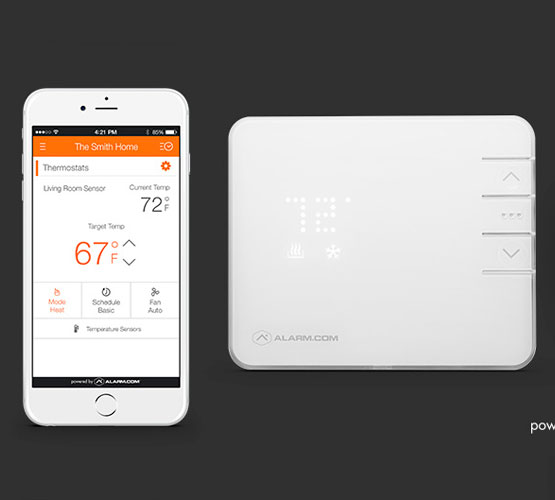 Reduce energy consumption by up to 9-15%, without compromising your lifestyle, heating and a higher percentage of cooling.
Reduce your energy bill.
Have remote control access to your lights and thermostats by next generation of connected devices i.e. smartphone, desktop, tablet or touch.
Text and email alerts to let you know when your thermostat settings change
Sensor advantage that doesn't rely on one room to determine the temperature!
Beautifully designed for the smart home, it combines streamlined hardware, sophisticated cloud services and an ecosystem of connected devices for an excellent energy management solution.
Customized light and thermostat schedules adjust to your lifestyle.
Z-wave radio connects to the communications module in all Alarm.com -supported security panels to let you create the ultimate level of comfort.
Flexible power options give you the choice of either AA batteries or common wire.
Control the Temperature of Your Oklahoma Home with an AVS Smart Thermostat
With smart thermostats and other smart home security services by AVS, customers in Altus, Cherokee, Okmulgee, Muskogee, Lawton, Ardmore, Bristow, Pawhuska, Maud and dozens of other Oklahoma cities know their homes are safe, secure, and energy-efficient. For information about our products and services, give us a call at 405-467-1217 or contact AVS Concepts online to get a free estimate today.