Smart Doorbell Installation in Moore, Edmond & Oklahoma City, OK
At AVS Concepts, we provide customers in Moore, Edmond, Norman, Midwest City, Oklahoma City, and throughout Oklahoma with a Smart Doorbell that comes with a Video Doorbell Camera. It is an attractive security device disguised to look like an ordinary doorbell and is powered by industry leaders Alarm.com, URC & Savant.
Because you can see, hear and speak to that person at your door on AVS Concepts' app on your smartphone, you don't have to make a hasty run to the door or fear opening your home to a dangerous intruder when a visitor presses the doorbell. The built-in motion sensor sends you alerts even when a visitor doesn't press the doorbell. You can also record & store security videos, review event histories, and take snapshot photos in full-color HD while feeling safe & secure in your home.
Our smart home security devices are available for more than doorbells. We also install and service smart garage door openers, smart locks, smart lighting, smart thermostats and more. Our wide array of voice control options will improve the quality of life at your Oklahoma home.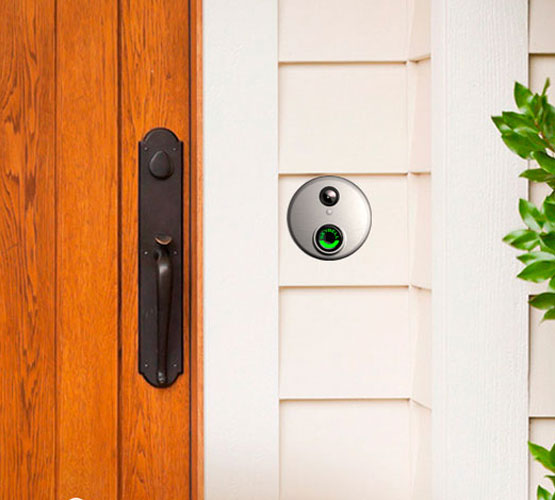 Features of Smart Doorbells by AVS in Norman & Oklahoma City, Oklahoma
1080p HD video with full-color night vision
Motion sensor alerts
The angle of view: weather and rain-proof
Wireless connectivity
Maximum resolution 1920×1080
5x times zoom
Monitoring the front door life
Hearing and speaking with 2-way audio
Reviewing day's events while away
Turning off home's doorbell chime from the app to avoid undesirable awaking
Capturing a photo of visitor or porch thief with the touch of a button
Rugged – works between -40 and 140 degrees Fahrenheit!
Dimensions: 1.44 inch width by 4.8 inch tall / 1.13 depth
Count on AVS Concepts for the Best Smart Doorbell Installation in Oklahoma
Our smart home security services, including smart doorbells, are available in Chickasha, Del City, Mustang, Choctaw, Guthrie, Okmulgee, Muskogee, Lawton, and throughout our Oklahoma service area. When you need our help, give us a call at 405-467-1217 or contact AVS online to set an appointment, get a free estimate or learn more about our superior security services.