Business Security Cameras in Edmond, Moore & Oklahoma City, Oklahoma
It is difficult to ensure adequate surveillance of your business unless you have AVS Concepts' business security cameras installed at your property to cover all the nooks, crannies and out-of-the-way places. Our devices are powered by industry leaders Alarm.com, Bluewave, CDVI & Kwikset. Having a group of partners with such proven track records allows us to be confident in the products and services we provide to business owners in Moore, Chickasha, Oklahoma City, Edmond, Choctaw, Guthrie and other cities in our Oklahoma service area.
With our services, you can keep a watchful eye on your property with our easy-to-use and flexible video camera solutions. View live feeds or recorded videos from our CCTV cameras to know who's in and around your office on a 24/7/365 basis. Reduce loss and protect your employees by providing access control to secure areas at all times. With our business security services, you can store or share real-time surveillance of your business and security video clips!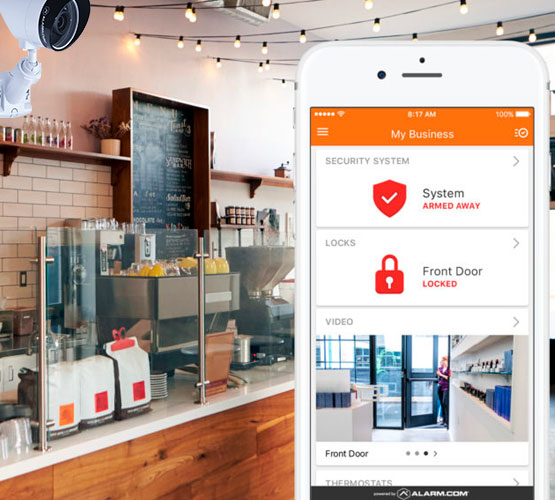 Management Services for Business Security Cameras in Oklahoma by AVS
High-Resolution Video Cameras
Increase profit & Optimize Operations
AVS Concepts Video Cameras
Quick Features
Video App
Protect Your Business with AVS Security Cameras in Oklahoma City & Moore, OK
Without question, there is a difference between home security and business security. That extends to the type, quality, location, and amount of cameras needed to protect an office or industrial business facility. Fortunately, the security pros at AVS Concepts understand the realities of both situations. We install and maintain the best business security cameras available from multiple industry-leading brands. To learn more about our products and services, call us at 405-467-1217 or contact us online for a free price quote. We serve customers in Chickasha, Del City, Mustang, Choctaw, Guthrie, and other cities within our Oklahoma service area.